---only with you did I ever feel the most foolish---

When we whispered those words,
Lying next to each other,
was it real or was it a dream?

When you planted those kisses,
So caringly, ever so tenderly,
was it you or was it just me?
With closed eyes,
Lips against lips,
Your arm kept me close --
as if shielding me from the day's woes.
I remember fumbling and forgetting;
Your exhausted yet confident self.
"Am I going to get a hug?" you asked.
I smiled and complied.
And for no reason, I gave you one of my firsts.
An unfortunate unromantic kiss from me to you.
But it was for you, only for you.
With our eyes locked,
I asked if I could.
Alluringly, "if you want"--
my hand slid down, yours was its guide.
I remember not wanting you.
Yet you insisted on moving my heart.
"Can I have permission?" you asked.
I gave it all then.
And attachment grew, quicker than I thought.
Even if I had known what was to come, the tears I'd cry for you.
I would never change this moment with you.
Your words, my words.
My actions, your responses.
That night,
I did it for you,
-- only for you.


Sitting here now, alone and without your company,
My mind is frantically figuring out what to do
With the memories you gave me,
The songs you sung to me,
The stories you told me,
Your touch, your smell, your warmth, your smile.
Your hugs, your kisses, your pats on my head.
Forget them? Erase them? Delete them?
Treasure them? Keep them? Save them?
"I can be your friend, I'll always be here."
Liar, I wish I could scream.
I wish I knew what you were thinking.
I wish I knew why I couldn't hold on.
"We're meant to be, duh."
Then why is it like this?
How quickly we make and break bonds.
How easily we ignore each other.
I try to move on,
I try to make it work,
But I wonder if you realize
How it pains me so when you turn your back on me.
My heart is missing a piece,
that's found in your hands.
Its return is not what I crave,
but only your company, even if in friendship.
Why make yourself real to me,
when in the end, you still couldn't be here for me.
And if my decision to end it all pained you so,
then why leave me ignorant; this ignorance isn't bliss babe.
It's a deeper hurt,
a deeper wound,
unlike no other.
My only truths that stand:
I did it all for you, only for you.
I gave you me, I hid no part from you.
I took your advice, tried to think.
But for my stay, I needed more.
Though my feelings go unchanged.
I still want your company.
I still want you in my life.
I still want to be in your life

Baby, don't shun me.




R U L E S
♪
-provide your own (stock) pictures
-include the round and the names
-include at least one line from a song, include the artist.
-participate all 6 rounds.
-credit the sources if possible.
-no ditching.

♪ S O O M P I T H R E A D ♪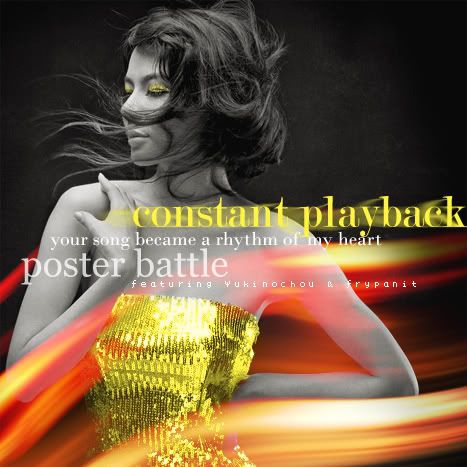 --by frypanit


♪ R O U N D O N E ♪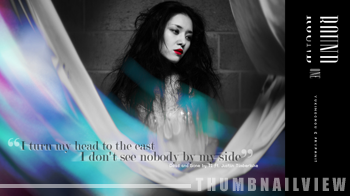 -- frypanit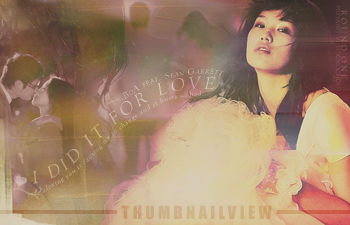 -- yukinochou


♪ R O U N D T W O ♪

♪ R O U N D T H R E E ♪

♪ R O U N D F O U R ♪

♪ R O U N D F I V E ♪

♪ R O U N D S I X ♪

♪



♪ you are my sunshine...you're my everything, you are the one that makes me sing. nothing in the universe can change that, you're like a song on a constant playback. i promise you...come to me now~♪

C R E D I T S: S E I S H I D O ☆ R A Y S O D A ☆ S O O M P I S T O C K T H R E A D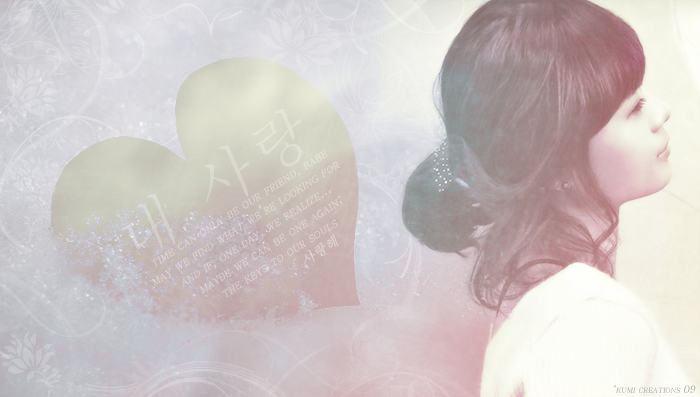 Okay, kind of happy?



Honestly, I don't like this one a lot. Blah. TIME TO TAKE A BREAK THEN AND STUDY :D
This thing reminds me of a Korean horror movie poster. Yea. Time to make something happy.

C R E D I T S: H - G ☆ C - S ☆ C A L I G O ☆ S O O M P I S T O C K T H R E A D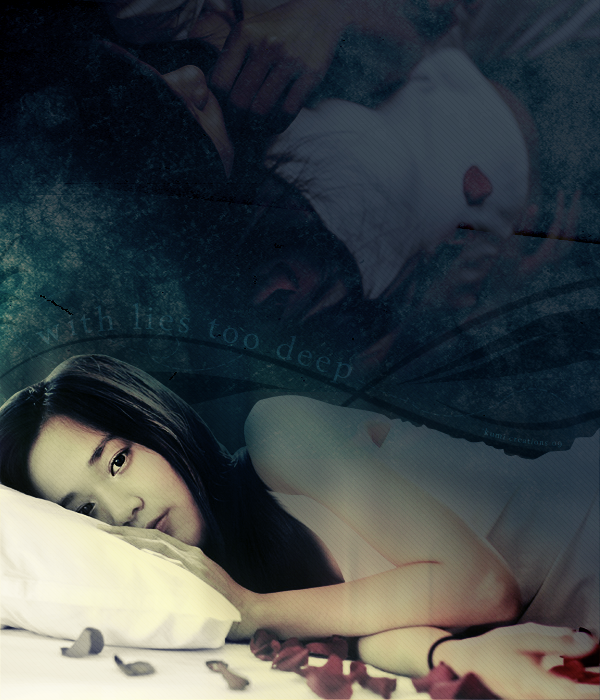 I have a feeling I need to take it easy and do something /happy/. Something light and pastel. It's a shame happy pictures aren't drawing my attention.




C R E D I T S: R A Y S O D A ☆ S O O M P I S T O C K T H R E A D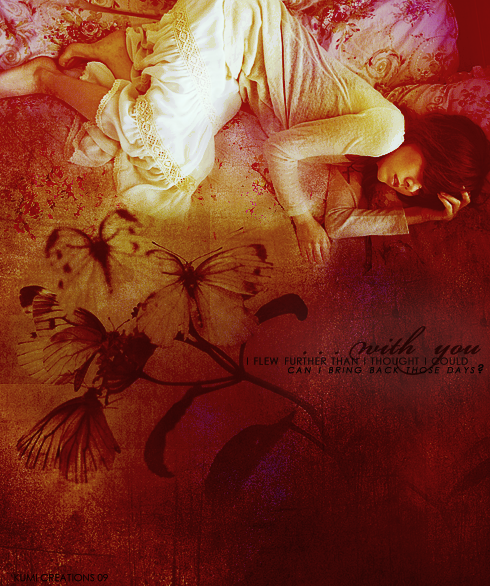 Title:
One Last Wish/One Last Goodbye
Rating:
PG
Genre:
Romance, Angst
Word Count:
2538
Status:
Finished
Dedicated To:
Seong Il Y.
Summary:
'Please just tell me you want me to stay, that you need my words and my opinion and my care…my feelings. Tell me that you want me here…'


(
She wanted to take his hand; she wanted to embrace him close.
Collapse
)
Stole Sarah's posting format =D







Oh how I wish you could make me forget.

I wish you could give me back all the times I've spent.
All the times I've stood, catering for you.

I wish you never uttered those honey-thick words.
Those words that made you so very sweet.

I wish I kept my cool, used the outer shell I built.
Instead of diligently tying this string between us two.

I've fallen for you and though I say, "Let's not be,"
Why can't you see that isn't what I meant it to be?

But all you say is, "I don't blame you -
"Now is too hard -
"Maybe one day -
"We can be."

You stupidly let me go,
Believing you could easily pull me back in when you're free.

Yo-yoing this taped heart that I now know can't last.

If only, if only I had stayed far from your path.
But you had already drawn me in with the music,
You had already drawn me in with that one fateful dance.

Dear Mr. Fool,
Maybe I'm the fool.



I wish you could see what you've done to me.




the moonlit wishes become reality.

untouched and untainted by our limitations,
the inner desires shall shine ever so clearly.

the secrets that were never spoken,
the whispers that were never heard,
the details that were never seen.

the smiles with laughter,
the music with dances,
the hugs with kisses.

the lovers can finally love;
the dreamers finally dream;
the wishers finally wish.

but with the sun's morning glory,
this elysian party is a scene too soon forgotten.

left to proliferate within the psyche,
til the night embraces the light,
and the bonds fall once more --

the bash becomming far grander than ever before.



when the dreamers fall peacefully,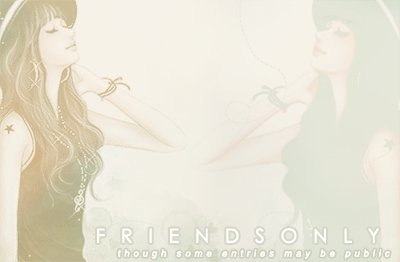 Because
aquariussenshi held too many memories that crushed my reality, with more than 800 posts since 2001 -- with addictions and friends that I have lost touch with. If you are coming from there, and still wish to get know me, I'll be more than willing to add you here. If I didn't add you already, please don't take it personally.

With that aside, Moonlit Wish is a personal/writing/graphics journal of a 19-year old college student. The graphics and writings will more than likely be public, but things pertaining to real life will remain friends only.

It's hard for me to get back into the swing of things, after easily losing to my addiction to dramas and Audition Online. But I will try harder, that's all I can say.